I was only planning on having three posts for the USS Melvin saga, but at this point I really do need four to document all the crap that's gone on with this thing. I last left off after the Melvin's first real test run, which unfortunately took place in much less than ideal conditions. Nonetheless, I was able to determine that the performance was pretty good and that the boat was a little too heavy with four D batteries.
Thus, the first of many modifications were made.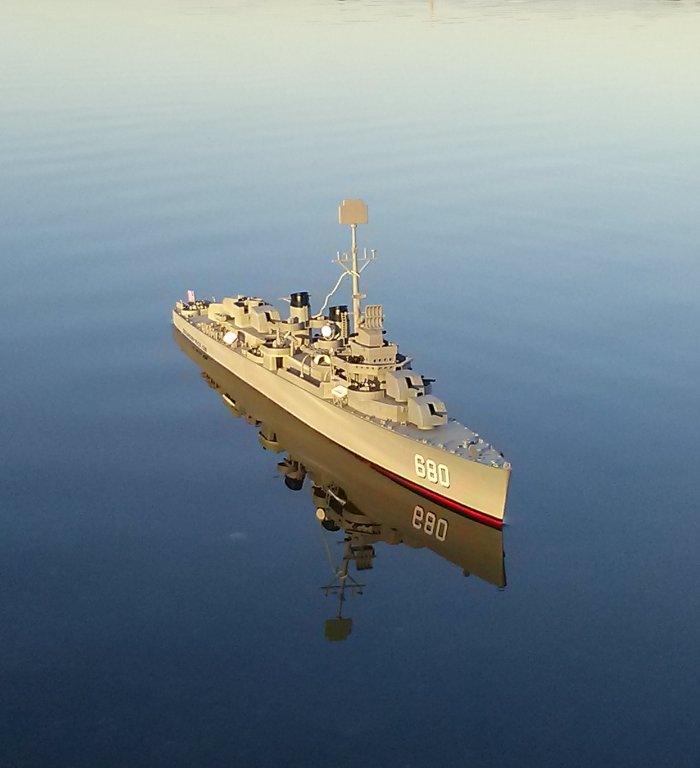 I replaced the stock battery box with one that holds four C batteries. With the RF500TB, I wasn't really concerned about battery capacity, and I was also pleasantly surprised to find out that stability did not suffer from the reduced ballasting. I was informed that Shoreline would be much less windy in the early morning, and the second test run took place in the early morning. It was March, 7AM, and cold.
The air was indeed very still, and the water was indeed very smooth. the ship worked well all around, and I had great fun driving on the practically infinite surface. Since it was just me, I was only able to take good still pictures (the above picture is from this trip). I tried to take a little bit of video footage, but it was mediocre as it was impossible for me to get close to the ship and still drive.
So that should have been that. I shelved the boat for a few months pending the cosmetic modifications I'd make when J returned and I could set out on the Las Palmas pond.
Thus, around the time J was packing his stuff and getting ready to come back (maybe the first week of May), I dusted off the Melvin and started doing the final touches. I added some rigging with some flags. The rigging is made of copper wire in order to make it reversible in case it turned out like crap. It was fine. Then I tried to do the railings but gave up when I determined that they would be far too fragile for normal use. Finally, I was going to go Itasha the hull, but I suddenly decided that I wanted to replace the torpedo tube assembly that I removed in order to use the RF500TB.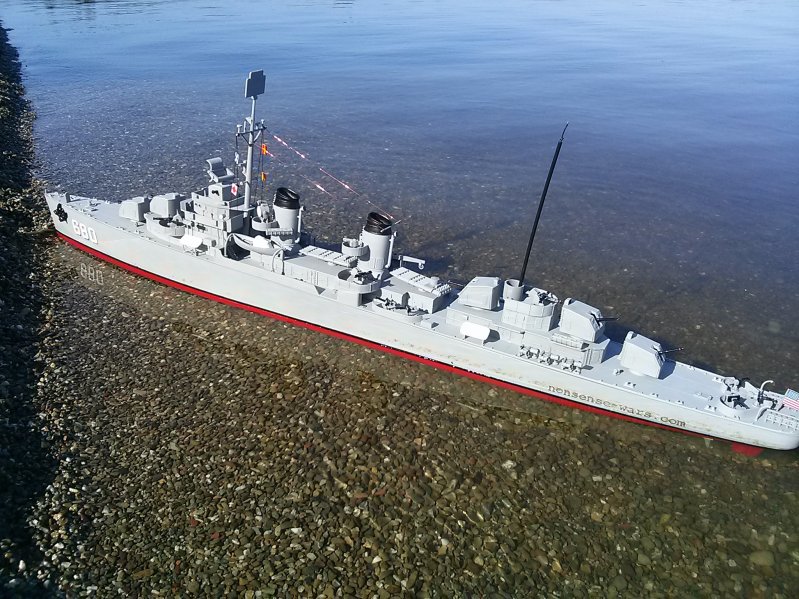 In order to reinstall the torpedo tubes, I would have to use a conventionally sized motor with 1:4 gearing in place of the RF500TB with 1:1 gearing. To get the same performance, I would need something that was putting out 10000RPM (2500RPM at the props) at load. I browsed the Mabuchi website until I found the RC280SA (which is apparently intended to be used on vibrators), bought one on eBay, and installed it without any issues. Initial static testing indicated that the output was a little underwhelming at first, so I made sure that the electronics could handle more juice and raised the voltage by building a new battery box that supported five or six C batteries.
This is when all the issues happened. To make a long story short, I was apparently having some issues with the ESC such that the motor would randomly cut out sometimes. It only seemed to happen at certain points (though I may have been just searching for a pattern in retrospect) so I thought it was a transmission issue, and spent a ton of time messing with the transmitter and receiver and making sure I had good reception. When that didn't quite fix the issue, I bought another transmitter/receiver set, which came with a different ESC, which ultimately solved the problem after a lot of messing around.
All in all there were two additional test runs and plenty of headaches in between.
After the most recent test run (second picture) I ended up rewiring everything with properly soldered connections and disconnects. I should still do another test after this modification. The ship is starting to look a little weathered now. The tall ugly thing is a proper antenna, which was installed while I was trying to mess around with transmission. At this point I've replaced the entire electrical system save for the servo on the rudders. Hopefully all of the problems have now been solved, and I can work on the obligatory itafication.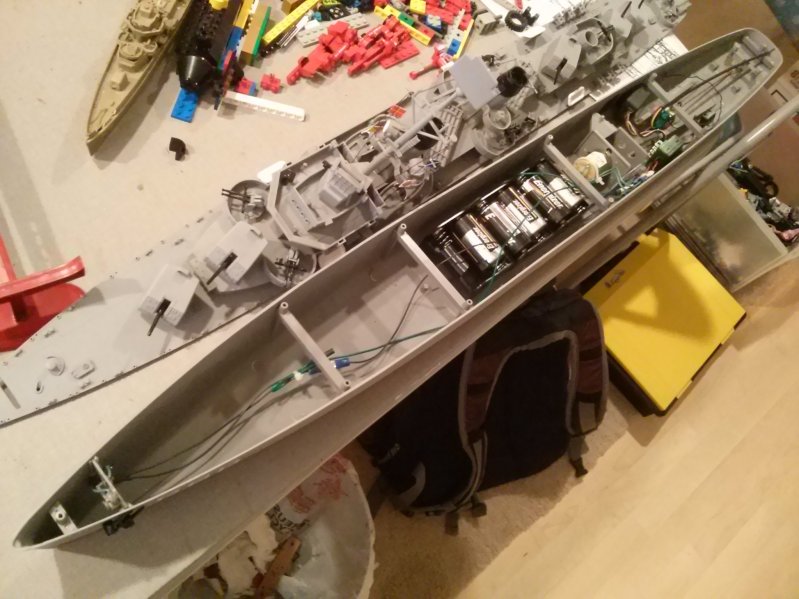 I was able to take a bit more video footage during the last couple outings since my new transmitter is a "trigger" style device typically used for RC cars and can be more or less be operated with one hand. The footage isn't particularly good as I still can't get close to the boat while it is moving, but I've compiled it and some older clips into a video. There are some flybys, maneuvering, rough weather running, and duck chasing. You can tell which clips are old and new largely based on the existence of the antenna. It also makes a different sound with the different motors.
At this point it actually has the mechanical linkage setup to turn the turrets, but with the current setup I can't practically turn the turrets electrically as the 3rd channel on my 3-channel system isn't quite independent. I think if there is anything I've become good at when making these boats it's making parts from bending metal rod.
Next Melvin post should be the last one for sure…